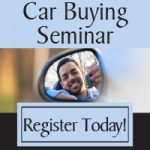 Thursday, May 24th, 2018
Hayward Member Service Center
(22777 Main Street, Hayward)
6:00pm – 7:00 pm
While shopping for a vehicle is exciting, it can also be complicated and time-consuming. There are many questions that have to be answered.
Car Shopping Considerations
Should You Buy New or Used or Lease?
Your Credit Score and Financing
Getting the Best Price
Your Legal Rights
Find out the answers to these questions and much more….
(510) 690-6100