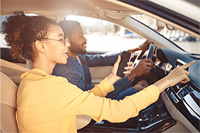 Refinance your auto loan with us and you could lower your interest rate an additional 2% APR!*
WE CAN SHOW YOU THE WAY
Go full speed ahead with an auto loan refinance from Bay Cities Credit Union and we could send you on your way by cutting your interest rate an additional 2% APR.*   We'll make the process easy and painless.
But hurry – this offer is only valid through 12/31/2020. So refinance your auto loan today at 510.690.6166 or Apply Now!
*APR=Annual Percentage Rate.  Limited-time offer.  Includes refinance of vehicles 7 model years old or newer.  Minimum loan amount $6,000 with a floor rate of 2% APR.  Existing loans at BCCU are not eligible.  Applicant must be a member in good standing and meet all lending requirements.  Loan being refinanced must not be in default. Loan decisions are based on applicant's credit worthiness.  Offer valid through 12/31/20.  BCCU reserves the right to terminate this promotion at any time without notice.