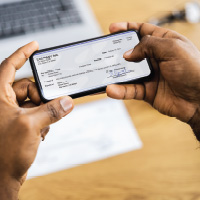 Easy and Secure – Bank how you want, when you want!
View Account Balances
Remote Deposit skip the line and deposit your checks with your smartphone or tablet.
BIO-Metric Authentication enables Touch ID or Face ID capabilities to instantly login to Mobile Banking.  It can also replace one-time passwords when an extra layer of security is needed for certain transactions.
Quick Balance allows you to see your balance and last few transactions without fully logging in to Mobile Banking.  If you want to enable this fast and secure feature, log in to your app and click on Settings.  You'll then find the Quick Balance Settings menu.
Transfer funds internally between your Bay Cities accounts, or another Bay Cities member account.
Transfer funds externally between your Bay Cities account and other bank or credit union accounts. Or transfer funds directly to another person by email or mobile authorization.
Bill Pay – Schedule your bills, view and delete pending payments and view payment history.
Card Management allows you to manage all of your Bay Cities cards when and how you want.
Helpful Information