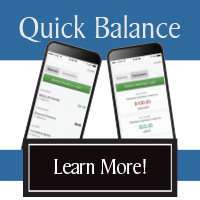 Quick Balance is a feature on the Bay Cities Mobile Banking App that allows you to view your balance information and recent transactions with just a swipe.  Once enabled, you can access Quick Balance simply by pressing the feature on the login screen from the Mobile App.
To Set Up Quick Balance
Log into your Bay Cities App
Select Menu, then Settings
Select the Settings tab
Select Personal Devices then Mobile Device
Select Register this Device and slide Enable Quick Balance to On
Enter the one-time password to activate Quick Balance and Save
To make transfers or pay bills you must fully log on to the Mobile Banking App.
Once Quick Balance is enabled, any persons with access to your phone can view your account information.  It is for this reason that we recommend for your security to password your phone.