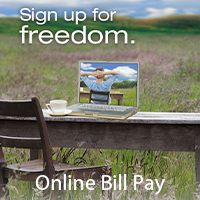 Bill Payer Plus is a secure way to pay your bills.  If you have your checking account with us and already enrolled in Online Banking it's as simple as clicking on "Bill Payer Plus" when logged in and you can start paying your bills.
By using this services you can;
Guard against identity theft from lost or stolen checkbooks and bills by receiving and paying your bills online instead of by unsecured mail.

Check your account status to confirm that payments went through in just a few clicks.

Maintain tighter control of your account with real time access to your payment activity.

Eliminate worries about late fees because you can schedule your payments safely and securely every month.

Increase privacy because only you can access your account information, account numbers and payment history.
If you're interested in learning more about Bill Payer Plus contact us or visit our Bill Payer Plus page to watch a demo .