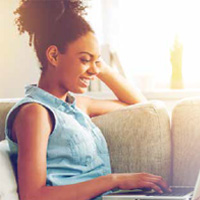 Banking Made Simpler 
Online Banking features include …
Easy Registration Enrolling has been streamlined and the process is easy.   Enroll Today!
Enhanced Security Features include customizable User Names in place of your account number. Protected viewing of sensitive information and utilization of One-Time-Passwords (OTPs) when enrolling and for certain transactions. 
Customizable Dashboard Get a jump start on your online banking and customize your Dashboard allowing you to display the most relevant information first.
Mobile Banking  Download our mobile app to your smartphone or tablet and have access to your account anywhere you go!

Transfer Funds Internal Set up future or reoccurring transfers between your Bay Cities accounts, or to another Bay Cities member if you know their account number, and…
Transfer Funds External between your Bay Cities account and other bank or credit union accounts. Or transfer funds directly to another person by email or mobile authorization.
Expanded Transaction search capabilities which include the ability to retrieve copies of your paid Share Drafts.
Secure Message Center Communicate with us securely when you need assistance.
Alert Notification  One of the best ways to prevent fraud and stay informed about your accounts.
e-Statements Receive your statements electronically, safe and secure.
Budgeting Features Categorize your transactions for future money management.
Helpful Information
Online Banking Informational Videos